[[ Find Gifts of Compassion: Etsy Shop || Read the Blog || Like on FB || Follow on Twitter || Inspire with Pinterest ]]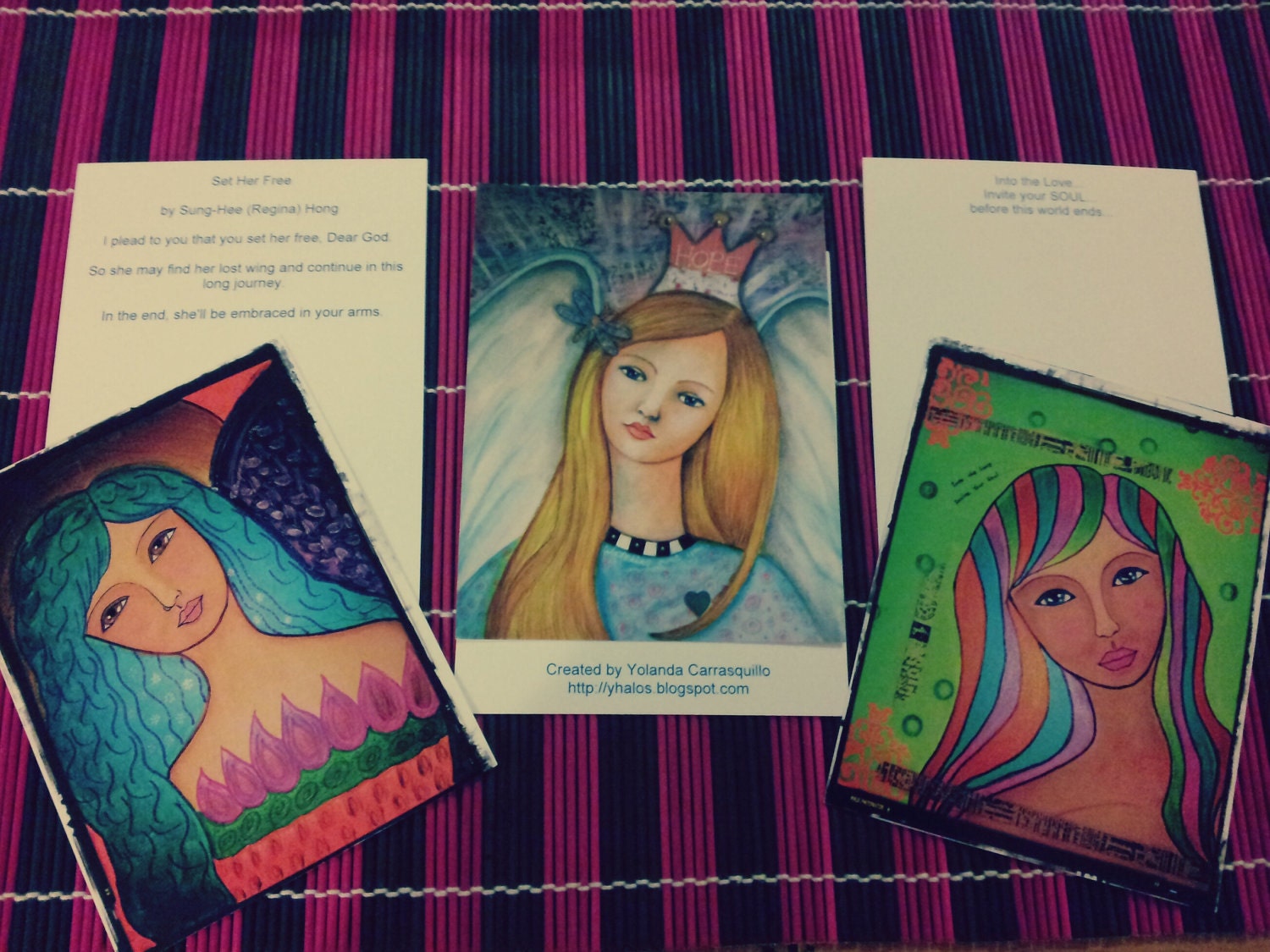 The amazing creator of the week is Sung-Hee (Regina) Hong of
Gifts of Compassion
-- Gifts of Compassion currently offers beautiful art healing postcards in a variety of styles, from 11 unique artists who have survived chronic illness/disabilities through ART. We carry wisdom, strength and healing light to help people cross over some of emotional/mental/physical challenges they face in this lifetime.
All about Beauty of Sorrow & Gifts of Compassion:
Beauty of Sorrow blog is a creative way of looking at pain, healing by sharing sorrow, letting people know that they are not alone and that we are there for each other. The Beauty of Sorrow comes out when one finds a way to heal the wound without provoking or triggering the violence and the event. This is my passion to help people change their perspective on illness or depression because they are the ones with the real passion.
I am here as a patient myself, suffering from clinical depression for a long time. I have not found a way to treat this effectively and my hope is that Beauty of Sorrow will help all of us heal in LOVE.
Whether you're a patient, a caretaker,an empathic person, an Art therapist, a psychologist, a psychiatrist, or just someone walking by this side of street, please share your LOVE. It's easier than you think! :)
I have birthed a new project, called Gifts Of Compassion, as an inspiration to create something that would benefit the people whose stories are featured on this blog and to help you share what so many others can benefit from – your love, your caring, your compassion.
The project, now in its beginnings, consists of an Etsy shop featuring art created by our Kings – all of whom live with chronic illness, depression and/or disabilities or have healed while moving through major life challenges. Our art has enabled us to move through our challenges with grace, gifting us with healing and keeping us connected to ourselves and the world around us.
It's my dream, and the dream of each 'King' or person participating, to be able to share those gifts, to facilitate them within you, and to give each of you a simple, healing way to connect with the people in your life.
It's also our dream to nurture and build a form of income for ourselves. For some of us, our challenges have affected our ability to have, and keep, mainstream employment.
For all of us, it is part of who we are, to want to earn an income doing something we love so well; that allows us to infuse body, heart and soul into our work and offer it as a gift of healing and compassion to you from our hearts. A gift that you can share with others in your life as an act of love, compassion and healing.
We currently offer beautiful art postcards in a variety of styles, from 11 unique artists. They are available through our shop, Gifts Of Compassion, so I invite you to visit and find art that can help you express your thoughts, meet your own challenges or affirm the beauty of someone else's life.
Favorite way to promote:
"We have offered 2 giveaways so far, but touching one's heart with our stories on our Beauty of Sorrow blog has been the best way to promote!"
Want a chance to be featured?
Click here
to submit your shop.
ByHandGiveaways | Owner's Shop Aulani Photography | BHG Etsy Team | Fan: FB
Tweet: @byhandgiveaways