[[ Find Cat In The Box Creations: Main || Etsy Shop || Fan/Like: FB || Watch on: Youtube ]]

Coupon for readers:
Get
18% off
all items, including over 40 items already deeply discounted by using the code
BYHANDGIVEAWAYS
at checkout (Expires 06/25/12 ).
The amazing creator of the week is Sarah, owner of
Cat In The Box Creations
-- a shop specializing in unique scratching posts, cat & kitten toys and the occasional random creation (usually involving cats!).

Click the image above to see a larger image of Sarah's workspace.
Cat In The Box Creations
started in July 2011
, "My very 1st scratching post was designed for a charity event through the "Cold Noses, Warm Hearts" foster care program through the Friends of the Animal Center Foundation (501(c)3) in Iowa City, IA. After seeing the outpour of human and feline support for my designs, I decided to open my Etsy store and offer my creations to cats around the world. Since then, I've realized my art can make a real-world difference and I use my Etsy proceeds to benefit the foster kittens I care for. The FACF provides food, toys, kennels, etc. for foster homes if we need it, but the more I can provide those supplies directly, the LESS the shelter needs to provide my home. This results in more resources & funding to go around for more animals in need. Bonus!"
Storing her creations and dealing with soreness are Sarahs's
biggest challenges
, "keeping my own cats and the foster babies AWAY from my Etsy creations and supplies [is hard]. I want the toys and scratching posts I create to be 100% free of my own cats' scent [so that they are] a blank slate for [the] new feline owners to mark as their own. I've since resolved to storing my Etsy stock in a separate area inaccessible to the cats. They have plenty of their own toys, don't worry. :-D My other challenge is the physical toll wrapping scratching posts by hand can have; the process I've developed creates both extremely durable scratching posts *and* very sore arms and hands. Pacing large-scale projects is a must."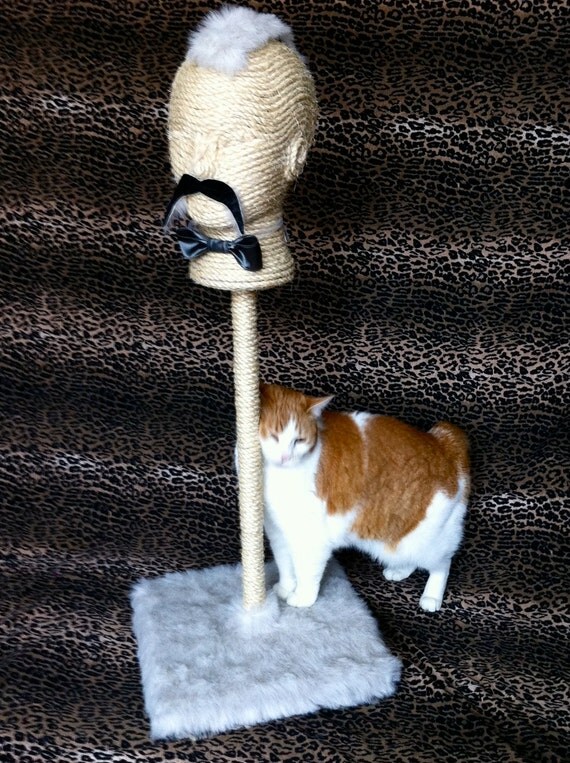 The kitties she raises are her biggest
accomplishment
, "although I've raised baby kittens too numerous to count, most come to me at least two weeks old. My favorite fostering accomplishment has been successfully hand-raising a 2-day old kitten into an absolutely wonderful cat. He came to me 3.75oz, blind & deaf (as all kittens are) without a mom or siblings to develop with. After almost 3 months he left a fat and happy 2lbs 6oz and was quickly adopted by a family who treasures him as much as I do/did. He imprinted on my soul, seriously. He was renamed Teddy by his family but he'll always be baby Steve French to me, you can see photos/video of him (and many other foster kittens) on my
Facebook
and
YouTube
page."
Sarah finds
inspiration
at the animal shelter, "seeing all those kitties waiting for homes reminds me of the bigger picture and that my art can make a difference in each of their little lives."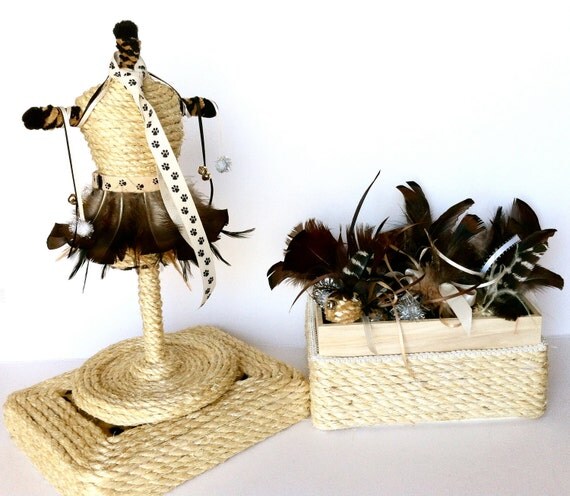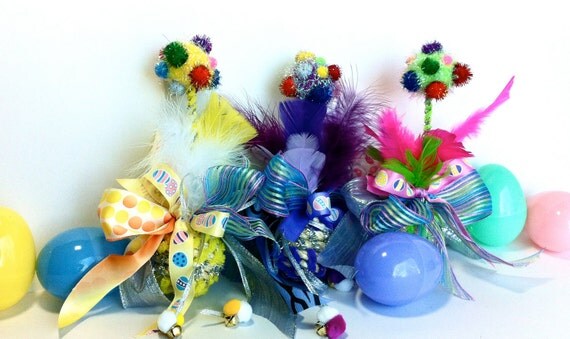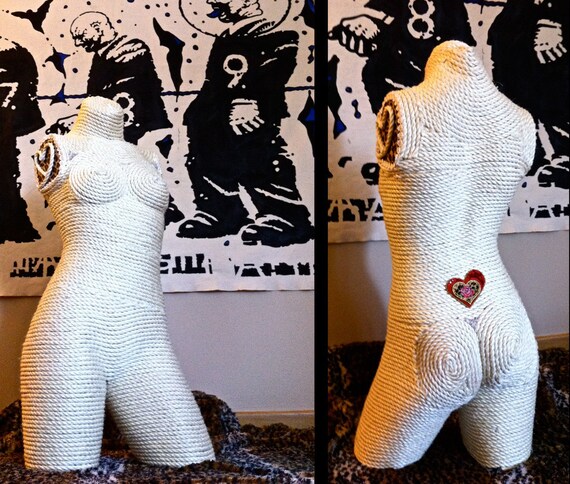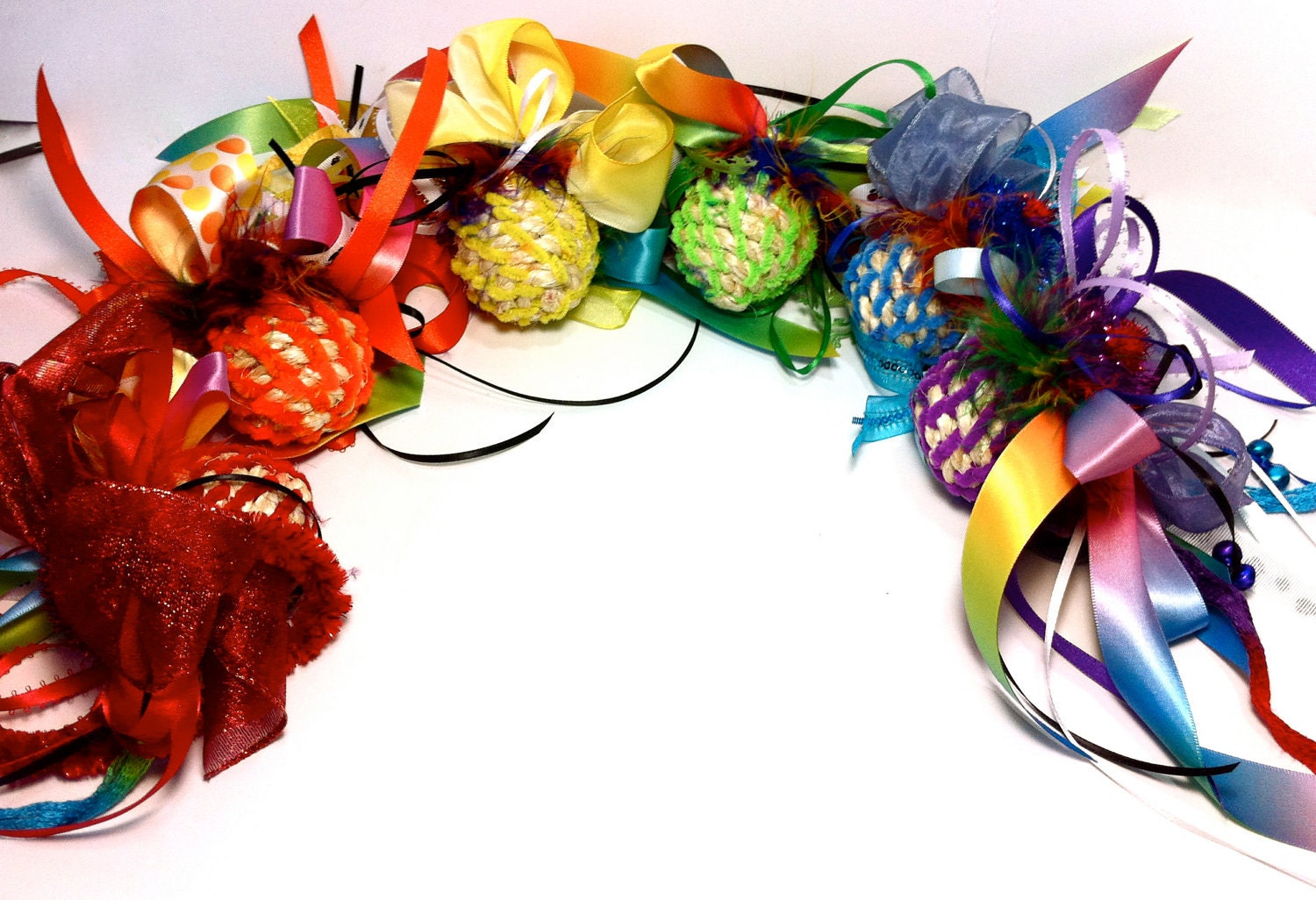 Besides your shop what makes you tick?
"Fostering kittens is #1, but a close #2 would be doing random acts of kindness, no question. I love leaving little gifts anonymously on cars in parking lots, giving a little gift to a stranger as I walk out of the local coffee shop, etc. There was a point in my life when I was given something randomly at a critical juncture and it made such an impact, it's my personal goal to pay that forward for as long as possible."
A tip for other sellers:
"As ultra-cheesy as it may sound, my tip would be to create with your heart's passion in mind and allow your art to impact real-world issues. Selling is important, but the journey and creation process is what will define YOU along the way."
A great way to promote:
"I dig YouTube quite a bit, it's a way to both exhibit the functionality of my creations and feature the foster kittens in my home at the time."
Sweet
resources
: "I friendly-stalk many Etsy stores. The current store I'm friendly-stalking happens to be my sister-in-law's store (also named Sarah!)-- she has sewing skills I could only dream of (find her at
Original Elephant
). I really enjoy supporting newly-birthed Etsy stores. I remember what that was (and sometimes still is!) like. Seeing stores shed their training wheels and fly on their own is pretty inspiring to me."
Current projects at Cat In The Box Creations: "For the next 5 weeks I'll be focusing on my current giveaway of over $160 worth of kitty prizes, The Great Cabbit Hunt of 2012, where Molly the Cabbit plays hide and seek throughout my Etsy store (see below for more info). Creatively I'm also in the process of designing a scratching post in the form of a DOG, how fun is that?!? :-D"
---
Most popular or favorite item sold:



As far as
giveaway participation
goes, she typically enters 2-3 a month, "I haven't won anything yet, but that's okay. Entering to win often serves as a ticket to dream; what would my life look like with the prize, would I keep it or give it away, etc."
Want to
win $160 in prizes
from Cat in the Box Creations? Check out the Great Cabbit Hunt giveaway she is hosting
here
; look on the left bar and click the Great Cabbit Hunt (ends April 8th at 11:59pm Central).
P.S.
"The "Educate, Don't Amputate!" movement is also something I am passionate about. Please don't amputate your feline's fingers to save your material possessions. Declawing a cat often creates lifelong behavioral issues and constant pain, there are so many other ways to keep your furniture AND your cat(s) in like-new condition! My creations are a great way to positively re-direct your cat's natural desire to scratch AWAY from your furniture and onto their new scratching post toy."
---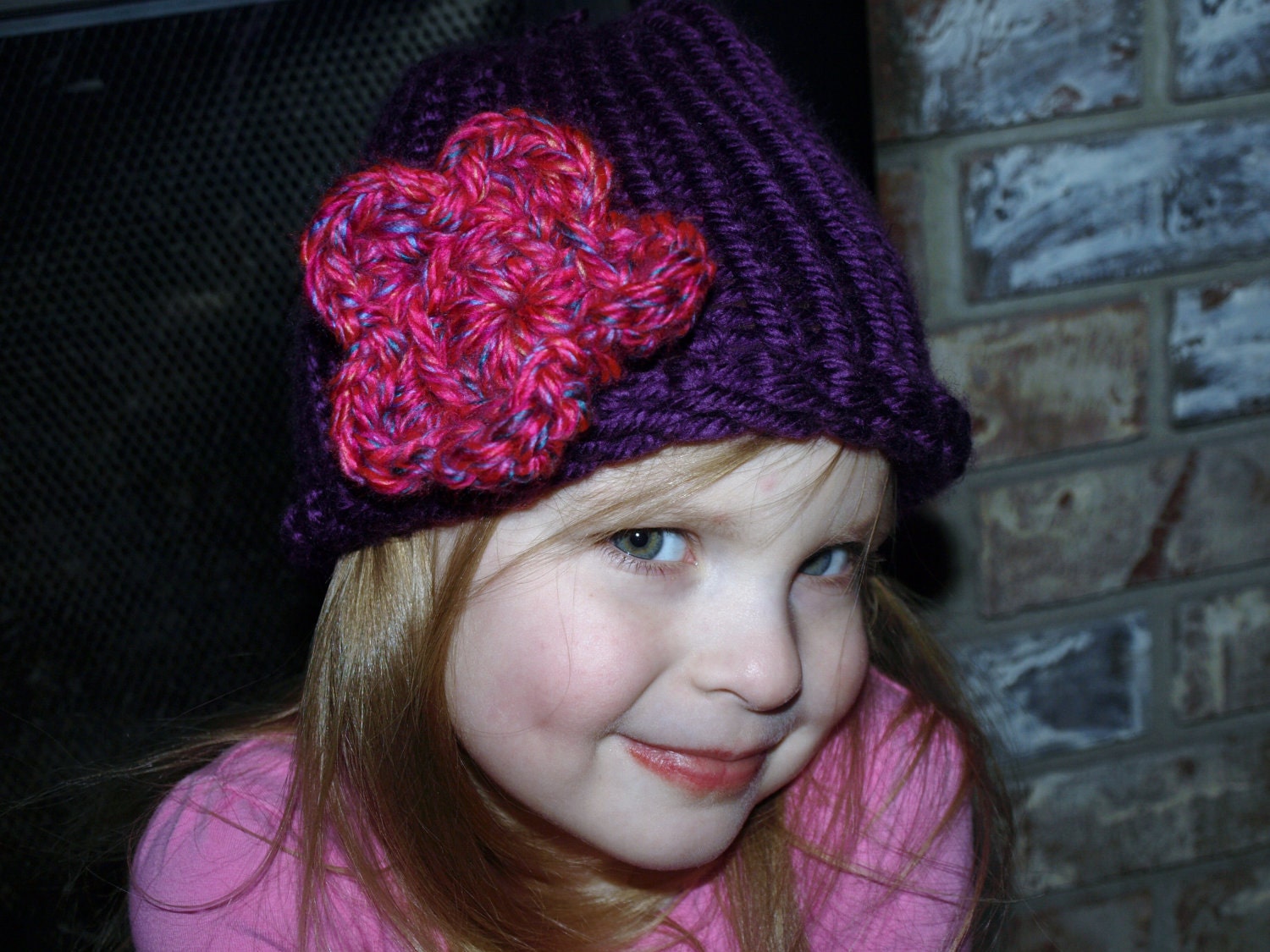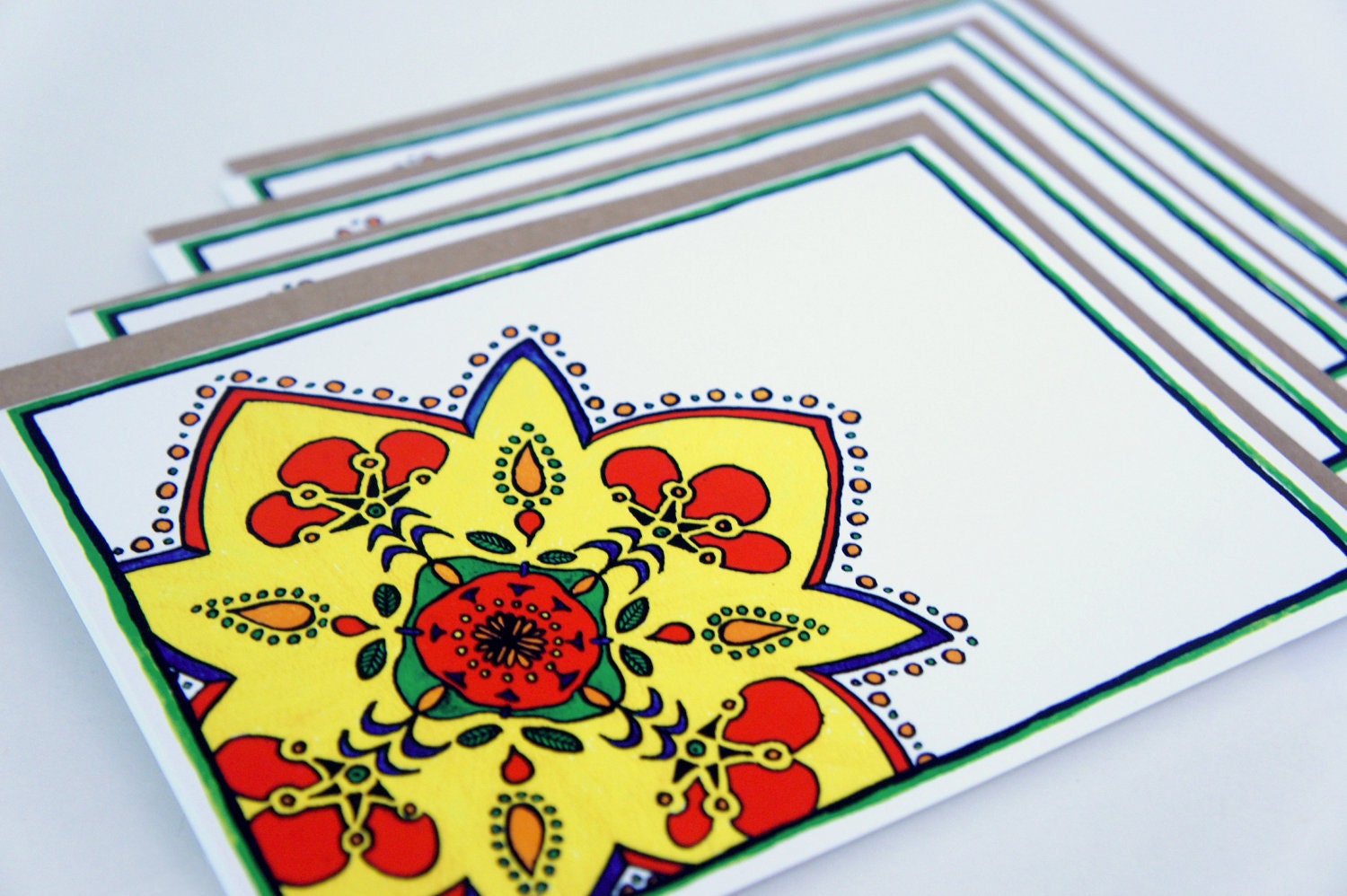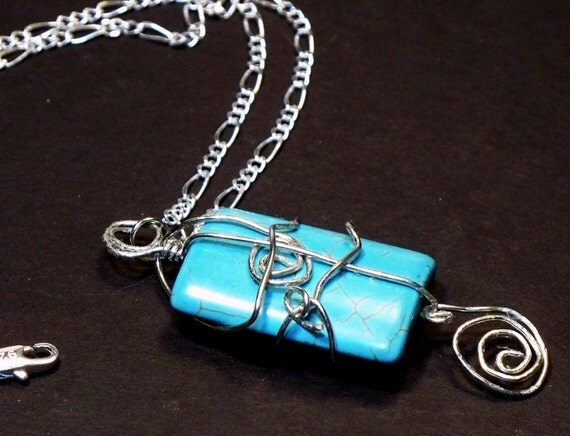 PS. Get
10% off
purchases over $12 with Code 10Blog from
Linda B's
(the picture right above this of a necklace is from her shop)!
Want a chance to be featured or get your items shared?
Click here
to submit your shop.
---
ByHandGiveaways | Owner's Shop Aulani Photography | BHG Etsy Team | Fan: FB
Tweet: @byhandgiveaways